The Hunger Education and Resource Training center, or h.e.a.r.t., was founded in 1981 by two former Warner University faculty members Dr. Bob Clark and Charlie Smith as a college level grass roots training center for Christian workers preparing to serve in missionary work in developing regions of the world.
When the duo partnered with Dean Flora with Food for the Hungry International, h.e.a.r.t. became a reality and was built in Warner's own backyard.
In 1994 it became an independent nonprofit corporation and till now it continues to serve hands on experiences, as well as, offering college-credit, academic courses through their three-week and 15-week programs.
"H.e.a.r.t. is a place to educate, equip, and empower workers with practical skills in cultural adaptations, problem solving, and community development for the purpose of meeting the needs of the hungry and oppressed," said Animal Husbandry Manager Joseph Mills.
Joseph Mills
"It's a program dedicated to teaching people to use a simpler way of life, whether it would be utilized in a development role overseas or in the local area."
But to get a greater understanding of h.e.a.r.t., what better way than to get the perspective of a student who has done both the three-week and the 15-week program like Warner University student, Hannah Johnson.
"I heard about h.e.a.r.t. before I came to Warner but didn't know much about it. My freshman year I felt God nudging me towards missions work and bargained with Him on doing the three-week program in May. I loved it so much but I felt like there was something I had missed," said Johnson.
The three-week program was just a taste of the full experience that was missing for Johnson. Over the course of the next semester, she felt God calling her back.
"After a lot of debating and rearranging the plans I had for my life, I committed to doing the 15-week term and I couldn't imagine it would mean as much to me as it did."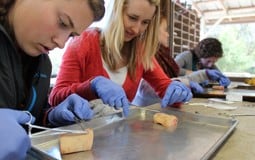 h.e.a.r.t. students working in lab
For Johnson and her classmates, the typical Monday through Friday schedule started with a 7 a.m. wake up call for labs where they were split into four groups that held different responsibilities: animals, garden, kitchen, and facilities.
After, breakfast was served, followed by a two-hour class period, then lunch. Chores that included cleaning around the village and doing dishes were done after each meal. The students then got set for another two-hour class period and ended their days with another set of labs and then dinner at 7 p.m. Weekends were free, and Johnson said most of the times the group would just hang out, do laundry, work in their gardens, or do homework.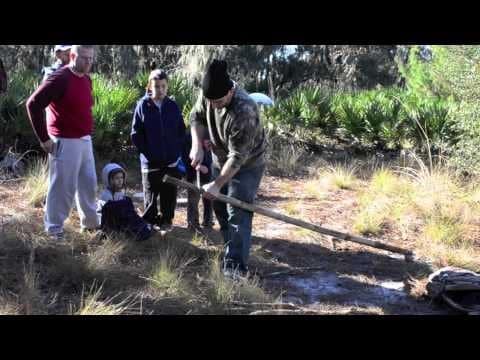 H.e.a.r.t.  students are taught to work together and deal with different types of people in all kinds of circumstances, and goes beyond what any traditional classroom setting can offer. It truly gives students a vivid look into a missionary's life.
"I've learned how to handle conflict without an argument but with simply discussing feelings and attempting to understand the other person. I've learned to step back and stay in the moment and let things happen as they do," said Johnson.
"That's the h.e.a.r.t. lifestyle: people first and the rest will come as it does."
But h.e.a.r.t. goes beyond an unorthodox educational environment. For many students who joined the program, h.e.a.r.t. is a community of people who became a family.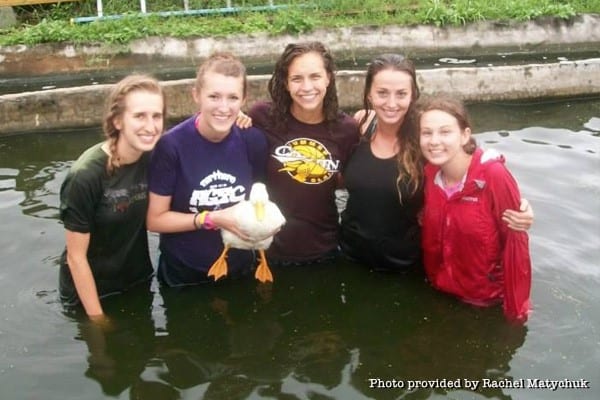 "How many times can you throw 13 random college students together for a semester and they come out as a family with no real known conflict? We all consider each other family," said Johnson.
"My favorite memories were of Sunday night church services where we would play guitar and talk about life, the nights around a campfire just hanging out, the days spent in the kitchen writing letters, sharing life, inside jokes, and laughter, and the late night conversations when we really should have been doing schoolwork," said Johnson.
H.e.a.r.t. partners with mission sending agencies, humanitarian organizations, churches, colleges, and universities to expand their global reach of spreading the glory of Jesus Christ.
"We get the opportunity to see students open their eyes to the world beyond their social level. It's not the rich they learn to love, but the poor, and needy," said Mills.
"The healing and freedom that comes from this environment are life changing. "Beyond belief" happens at h.e.a.r.t and in the lives of our students."
For more information, visit Heartvillage.org or follow them on Instagram at heart_village.