Two decades of faithful partnership
Special article written by Alicia Bush
If you had set foot on Warner's campus any time during the month of July you would have experienced the undeniable energy of 38 teenage girls.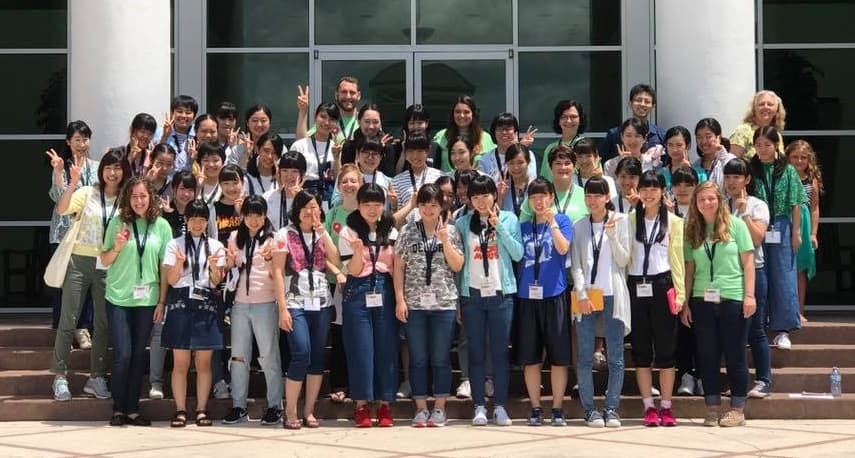 Tamagawa Seigakuin, also referred to as Tamasei, is an all-girls junior and senior high school on the western edge of Tokyo Japan.  Every summer, for the past two decades, Warner University has partnered with Tamasei as part of the school's English training program.
John Myer, Resident Director at Warner University, has been working with Tamasei for the past five years.  This is his second full year serving as state-side director.
"A group of 40 girls are chosen each year from the sophomore class to participate in a conversational English class/cultural experience in Lake Wales, Florida," says Myer.
Tamasei Leadership Team, including stateside Director John Myer, front left
The English camp is three weeks in length, during the month of July. Students are divided into 5 groups of 8 where an instructor leads their classroom in curriculum and various extracurricular activities.
"The relationship that the instructor builds with each of her students plays an integral part in the success of the program," states Myer, "Myself and the other Tamasei leaders prayerfully considered all applications and chose an amazing staff this past year."
Several Tamasei students, Alicia Bush (and a gator!)
Several staff, including instructors, director and technical support came from Warner University.  Along with John Myer, Resident Director, Alicia Bush served as an Instructor as did student Faith Rewis.  Student Alex Young assisted as technical support where he successfully photographed and documented many highlights of camp.  Other Tamasei Instructors include college students from Flagler, HEART and Wofford College.
After spending time in the classroom learning basic phrases for ordering food in an American restaurant and learning the currency system, students are given the chance to practice what they learn by going to lunch at local restaurants and shopping in places well known in Lake Wales.
Places such as the Florida's Natural Grove house and Davidson's candy shop in Dundee.  Students are also whisked away to iconic places such as Bok Tower, Lake Wales Lake, HEART village and Disney's Epcot.
On Weekends, girls are paired up and sent home with families who volunteer to participate in the homestay experience.  The purpose of homestay is to allow the girls to truly feel part of an American family for a weekend.
"Although Tamasei is a Christian school, the majority of the students do not have a personal relationship with Christ," says Myer.  "It is our prayer that their experience during English camp would be a catalyst for drawing them closer to God."
Tamasei students at HEART Village
If you would like to participate as an instructor or homestay family for next year, please contact John Myer at John.Myer@warner.edu.