Advancement: Giving Priorities and Opportunities
We have seen many changes at Warner University since we opened our doors and welcomed our very first students in 1968. We are so grateful for every individual that God has brought through our doors. Our alumni hold a special place in our history and our hearts. We strive every day to provide a safe place where our students can learn about God, develop their passions, and form lifelong friendships in an environment that is beyond belief.
God continues to bless our university and our alumni are a constant encouragement to our heart. Be sure to check out our blog for all our Alumni Spotlights and share your stories with us. We hope you will connect with us on social media, and as always welcome you back to campus!
Swindle Ag Complex "Stock the Barn"

The Swindle Ag Complex was dedicated on September 20, 2018!
To view the current donors to the Agriculture Complex and program, click here: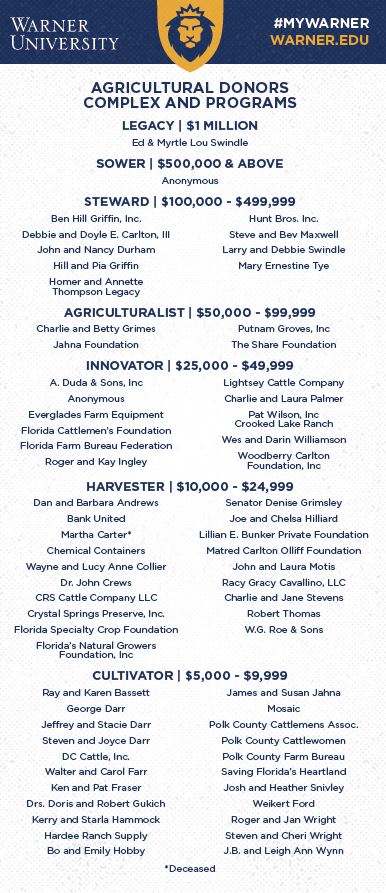 Warner would like to say a big thank you to these donors for their generosity!
Warner is so gracious that the complex is completed, now we are continuing this project by "stocking the barn"! Join us by picking an item or an amount to help us fill out the inside of the complex:
Stock the Barn Campaign
Ag Student Scholarships- $25,000
Livestock/Rodeo Arena- $20,000
Used Truck- $15,000
Stock Trailer-$10,000

Laminar Flow Hood & Microscopes- $8,000

Stocked By: A. Duda & Sons
John Deere Gator/UTV- $7,000
TV/Computer Display Cart- $6,500
Projection Microscopes- $6,000

Portable Fume Hood- $5,500

Stocked by: Jahna Foundation
Welding Booths (2)- $5,000 Stocked by: Fla FFA Alumni Association

Chicken Coop- $5,000

Stocked By: Dan and Barb Andrews

Mower Implement- $2,000

Stocked by: Albritton & Sons

Disk Implement- $1,500

Stocked by: Albritton & Sons
Livestock Fans- $1,500
Saddle Rack- $400
Water Troughs/Feed Buckets- $250

Tools- $250

Stocked By: FL Strawberry Grower's
Blower- $150
Stall Muck Bucket and Cart- $125
For More Information, Please contact Leigh Ann Wynn at leighann.wynn@warner.edu or at 863-638-1446
Alumni & Friends Brick Walkway
The Alumni & Friends Brick Walkway is a wonderful way to honor a family member or friend, commemorate a special event, or pay tribute to a loved one. Your name, year of graduation, or personal message will be engraved and placed alongside those of classmates, friends, and family in the walkway that begins at the Love Essence sculpture.
Bricks may be purchased for $125 each, and will pave the way for future Royals for years to come. Contact Alumni Relations & Annual Fund Coordinator Abby Crawford at abby.crawford@warner.edu or 863-638-7248 or purchase a brick online here and choose "Alumni & Friends Brick Walkway" on the drop-down menu to designate where you would like to direct your gift.
Amazon Smile
When you add Warner University as your charity when you shop at Smile.Amazon.com (not the app), Warner simply receives .5% of the purchases you make. Just click here and begin shopping.