Today, Friday, November 15, in Darby Lecture Hall one of our Master Classes had a special guest, Patrick Muehleise. He is in town to perform at the Lake Wales Art Center on Saturday night.
Patrick Muehleise is an acclaimed American tenor specializing in a wide variety of concert soloist repertoire and known for his"beautiful, evenly produced lyric tenor" and "pure tone." Mr. Muehleise was named the 2019 tenorrecipient of The American Prize Chicago Oratorio Award and in 2016 he was nominated for a Grammy Award in the Best Choral Performance category for his collaboration on True Concord's album "Far In The Heavens:Choral Music of Stephen Paul" and can be heard on seven nationally-released recordings with Grammy-nominated an award-winning ensembles.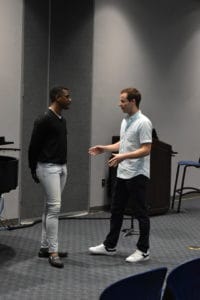 The Master class featured two WU music students Jeffery Hamm and Leon Anderson singing and working with our guest. Each of the two students had a chance to work with Mr. Muehleise and he gave new practice techniques and warm up techniques. Everyone walked away with new insight into genuinely helpful practices to help with pressure and air flow when singing.
Thank you Patrick Muehleise for coming to Warner University today and sharing your story. We were honored to have you and thrilled for our students to put all of your help and advice into practice.