On February 21, 2018, Billy Graham entered into his eternal reward at the age of 99. Since that time we have seen and heard many expressions of gratitude for his life and ministry – as it should be. It is exciting to know that he laid in state in our nation's capital as one of the few private citizens in our history. What a remarkable man and ministry.
As we think of a man who had a ministry that literally reached the world, we must be careful not think that if ours doesn't, that we are a failure. Living in a "Celebrity Culture", even within the Church, it is easy to do.
But in reflecting, I was reminded of the chapter in the New Testament book of Hebrews, known as the Hall of Faith. Within this chapter, we read of Abel, Enoch, Noah, Abraham, Isaac, Jacob, Joseph, Moses, and Rahab. In closing the chapter, the author, who claims to be running out of time, simply names Gideon, Barak, Samson, Jephthah, David, Samuel and the prophets–. This is a list of Old Testament heavy weights in the faith. However, in verse 33 the author begins to identify deeds that were done by those who remain nameless, and will end with these words: "of whom the world was not worthy." (Hebrews 11:38a NRSV)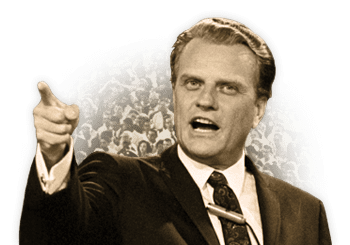 Maybe there is a difference between what seems worthy to the world and what seems worthy to God!
There are "not-so-famous" disciples, even nameless ones who will receive the same greeting that Billy Graham receives: "Well done, good and faithful servant…" (Matthew 25:23 ESV) Within this parable of the talents, the servants are not given their reward in comparison to one another, but in response to what each had done with their own talents.
This little reflection is not to take away from the life and ministry of Billy Graham. God used him greatly to reach millions with the Gospel. However, it is to challenge each one of us to use the talents and abilities that God has given us to advance God's kingdom, here on earth as it is in heaven (Matthew 6:10b). And to use those talents and abilities right where we are.
My father used to say to me, "Mike, you worry about the depth of your life and ministry and let God worry about the breadth of your ministry." May each of us be found faithful right where we are – to God's Glory!
by Dr. Michael Sanders