Warner University Commencement News
Click BELOW to download the Commencement Program:
Warner University 2020 Commencement Program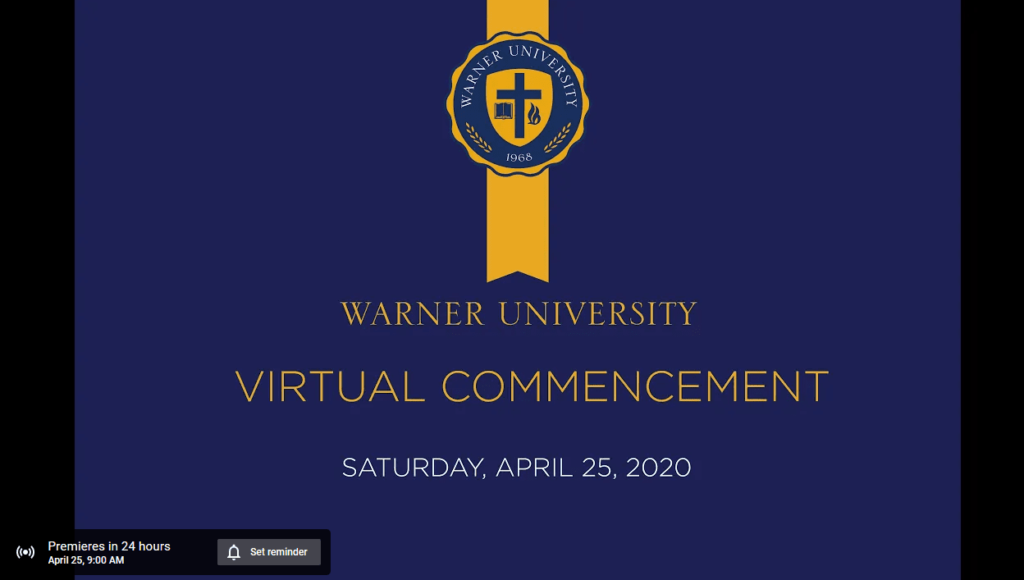 Warner's 2020 Commencement ceremony will be unique this year.
Listen as President Dr. David Hoag and Duke give the directive for this year's virtual graduation ceremony!
Graduates will also have the opportunity to walk in the spring 2021 commencement ceremony on campus.
Graduation Timeline
ASAP:          Before April 10, confirm mailing address for regalia by contacting
For graduating students who pre-ordered regalia, refer to an email dated March 27 to confirm your shipping address. The bookstore will ship using FedEx (please note, this excludes shipment to P.O. boxes and international addresses).
April 13:      For students who did not pre-order regalia, the bookstore has a limited supply of caps and gowns available, first come, first serve. For more information contact 2083mgr@follett.com.
Send height, weight, degree, and shipping address.
April 15-20: Regalia will be shipped. This includes cap, gown, tassel, cords,
stoles, and master's hood if applicable. Please note, the drop down tassel hang may ship separately from Jostens.
3pm, April 21:      Once you receive your regalia send the following by April 21 by 3pm to grad2020@warner.edu
jpeg picture in your cap & gown or business casual, if you don't receive your regalia in time

Save image as (LastFirst.jpg)

up to 30-second encouragement video
include your full name in email subject line
April 25, 9am: 
Please share this link with your family and friends as an invitation for Warner's Commencement Ceremony
Subscribe to the YouTube page now so that you receive alerts when the ceremony goes live!
June 10- 25: Spring graduating students will become official graduates when they complete this semester and diplomas will be mailed 6-8 weeks after commencement.
Questions? Email registrar@warner.edu
Application for Graduation
Complete an Application for Graduation before the beginning of the semester you intend to finish your degree program. The application process includes a degree audit. It takes time to complete, but it will help you correct omissions in your program. You must meet the requirements for the appropriate degree as listed under the section "Degrees and Degree Requirements" to be approved for graduation.
As a candidate for graduation, you must submit an application for graduation and graduation fee to the Office of the Registrar.
| Graduation | Application Deadline |
| --- | --- |
| October/December | First Day of Fall Semester |
| March/May | First Day of Spring Semester |
| June/August | First Day of Summer Term |
Note: All applications received after the deadline will be considered for the next graduation date.
Before the faculty can approve you for graduation and commencement, you must submit all documents supporting completion of degree requirements during the current term before the following dates:
| Term | Deadline |
| --- | --- |
| Fall Midterm | September 1 |
| Fall Semester | November 1 |
| Spring Midterm | January 1 |
| Spring Semester | March 1 |
| Summer Midterm | May 1 |
| Summer Term | July 1 |
These dates include courses being completed at another college or university, standardized test scores (e.g., CLEP, DANTES), and PLA credit. If all documents supporting completion of degree requirements are not received in the Registrar's Office by the above dates, your name will not be presented to the faculty for vote, and your graduation will be at the end of the following session.
Submission of these documents requires written communication with the Registrar's Office; phone contact is not a matter of record. These procedures and requirements apply to all students and any term in which they plan to graduate. For example:
If you are taking coursework at Warner University, the Registrar's Office has documentation of that registration. No further documentation is required. Successful completion of the coursework is necessary for the degree.
If you are taking coursework at another college or university, the Registrar's Office must have documentation of that registration and a final transcript of the complete course(s).
If you are taking standardized exams (e.g., CLEP, DANTES) to complete degree requirements, those results must be received in the Registrar's Office before the above dates.
PLA applications and supporting documents must be received by the Registrar's Office before the above dates.
Graduation – Commencement Ceremonies and Diplomas
Commencement ceremonies are conducted at the end of the spring term. You must complete all graduation requirements prior to participation in a commencement ceremony. Degrees are conferred at the end and midterm of the fall, spring, and summer terms. Diplomas will be mailed to students only after all coursework is completed and entered into the permanent academic record, all financial obligations to the University have been paid, and the Registrar officially records the conferral.
Graduation Honors
Students who have completed residence requirements at Warner University and have the required cumulative grade point average on all course work completed, including any transfer credits, will receive the following graduation honors:
BACHELOR
Summa Cum Laude: 3.9 – 4.0
Magna Cum Laude: 3.7 – 3.89
Cum Laude: 3.5 – 3.69
MASTER
Distinction: 4.00
For the commencement exercise, the GPA for the previously completed term may be used. The permanent academic record will reflect honors based upon the final GPA, which includes any transfer credits. Master and Associate degree graduates are not eligible for graduation honors at Warner University.