On December 5th the Warner University Social Work Club conducted a food and hygiene items drive for The Mission of Winter Haven. The Mission of Winter Haven has been serving the community for over 40 years. Services are available free of charge to all in need. They provide hot meals, grocery assistance, clothing and other vital services to men, women and families. In addition, they provide homeless services like showers, mail, computer and resume help.
The Mission of Winter Haven states that they do not exist to give a hand out, rather they understand that no one changes overnight. It takes time, FAITH, enrichment classes, COMMUNITY, accountability, support and HELPS to bring a life to true restoration.
We couldn't be more proud that our students are out in the surrounding communities of Polk County working hard to make them a better place. We thank them for their hard work and devotion to the mission of Warner University. 
Pictured are representatives from the Social Work Club: Ashley Rodriguez, Kalyn Buteyn, Emma Picca and Jamesha Hamilton when the final items were collected. Pictured on delivery day: Kalyn Buteyn, Dr. April Steen (Assistant Professor of Social Work) and David Berry (Executive Director of The Mission of Winter Haven).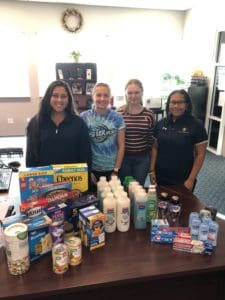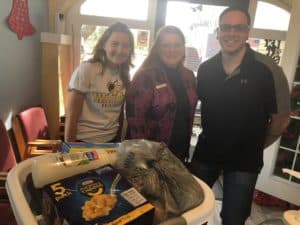 For more information on The Mission of Winter Haven feel free to call: (863)287-6628 or visit their website: www.themissionwh.org