MAY 10
We drove from Warner to Keys Marine Lab in Layton (about the middle of the Florida Keys), where we stayed until May 15. On the way down, we stopped to hunt for herps (reptiles & amphibians) at the South Bay Boat Ramp in South Bay and the West Kendall Agricultural Complex in The Hammocks. (Yes, that's the name of a real town in Florida. Lol.) The most exciting thing that happened on the 11th was the Brown Water Snakes we found at the South Bay Boat Ramp. I believe we found five total, plus four Florida Green Water Snakes.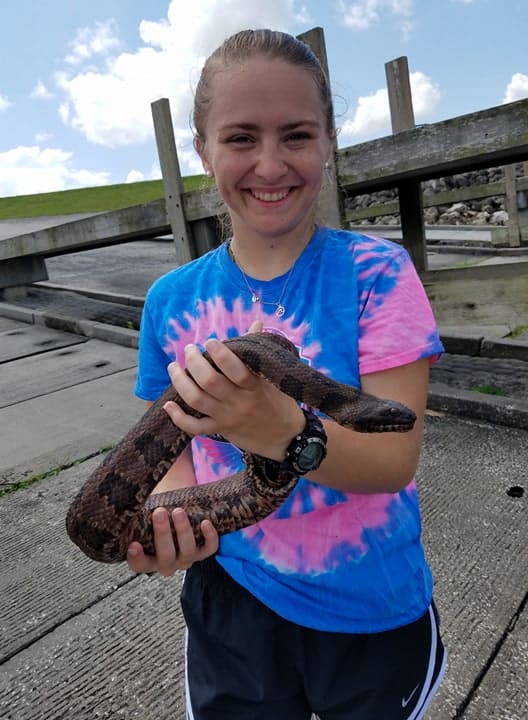 MAY 11
We did some snorkeling at Long Key State Park in the morning (mostly so the new snorkelers could get practice). In the afternoon and evening we went hunting for herps at Pennekamp Coral Reef State Park in Key Largo and Key Largo Hammock Botanical State Park in North Key Largo. We spent most of our time at Pennekamp rummaging around in the trash cans, looking for Common Tokay Geckos. (That's apparently where they like to hide, but we never found any).
The highlight of Key Largo Hammock was that Meghan Thies and Moses Panchame figured out the trick to finding Reef Geckos. Amy Oberender (my co-instructor from Orlando) and I hadn't been able to find any, but we saw probably ten of them after they showed us what to do. (If you're wondering, you walk very slowly along the edge of the concrete path and watch for them moving under the leaves on the side of the path.)
MAY 12
We snorkeled off the marina at the lab in the morning and went to Florida Keys Wildlife Area (near the town of Cudjoe Key) that night. During the snorkeling time, Moses and Meghan found several Giant Anemones. At FKWA we found quite a few interesting fish, as well as upside-down jellyfish. We also caught two Common Tokay Geckos, one of which gave Moses and me a couple of nasty bites.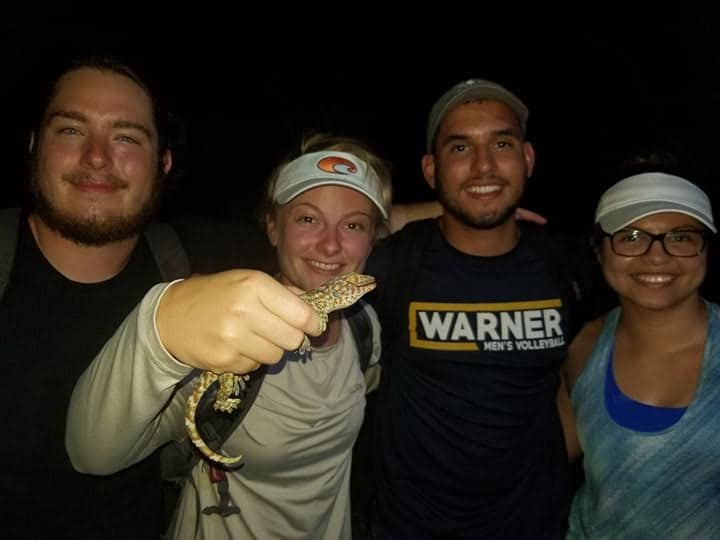 MAY 13
The 13th was our free day. We didn't do any official class work, but we did snorkel again near the lab. I'm pretty sure I saw a sea turtle while snorkeling, but it was far ahead of me and swimming as fast as it could go in the opposite direction from me, so I never saw it well enough to be sure.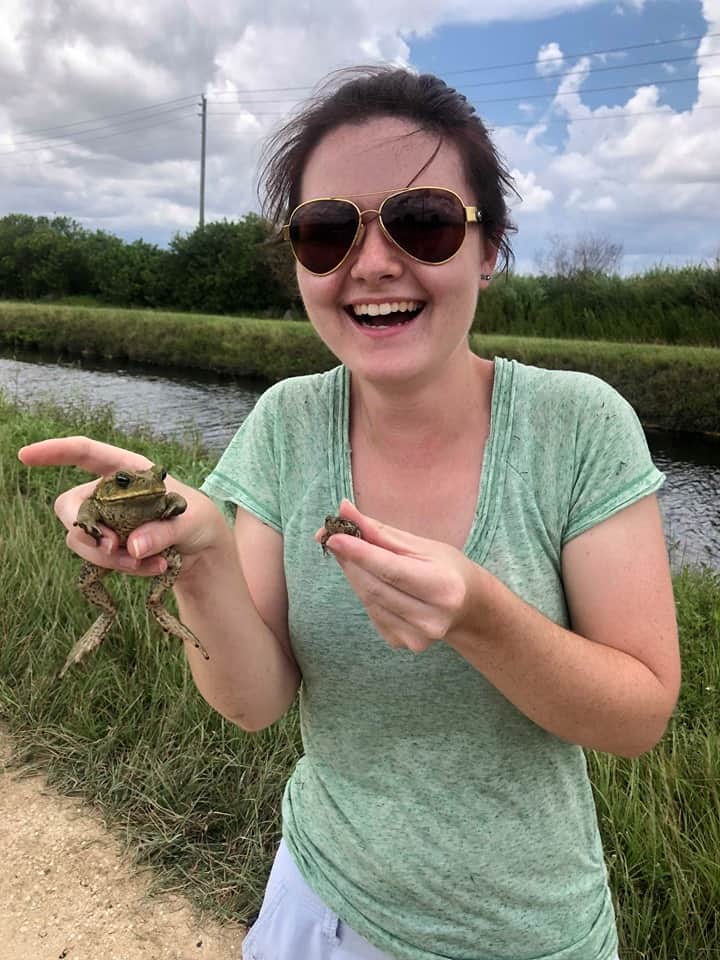 "The herpetology class was particularly useful for me as I'm planing on conducting research on reptiles in my future career," says Hope Abercrombie, herpetology student. "You truly learn more with hands on experience than you would solely in a classroom. The trip went above and beyond entry level information. While the scope of the class taught us how to identify and classify different species, in the process we also picked up techniques to find and capture the desired specimens. We didn't just take walks to see what we could see. The class also allowed us to have free time which generally consisted of snorkeling (and studying!)"
MAY 14
This was our biggest, busiest day. We had to get up at 5:00 in the morning to drive to Key West to pick up the ferry to Dry Tortugas National Park. The ferry ride was 2.5 hours out, and we saw several sea turtles and even a Greater Dolphinfish (you probably know it as Mahi Mahi) from the boat. DTNP is 67 miles west of Key West, so you feel very isolated out there. Our primary class-related goal at DTNP was to see turtles, and we were successful.
Hope Abercrombie, Amy, and I ran across a young Green Sea Turtle swimming in the moat around Fort Jefferson (an old Civil War fort at the Dry Tortugas). We also did a lot of snorkeling. The entire fort is surrounded by a coral reef, and we saw many species of reef fish, as well as sea urchins and even a huge live helmet shell. (I don't know who originally found it, but Aurora Alderman put a great effort into trying to relocate it for me so I could see it). After the boat ride back, we spent some time exploring the city life in Key West, and then we headed back for our last night at the lab.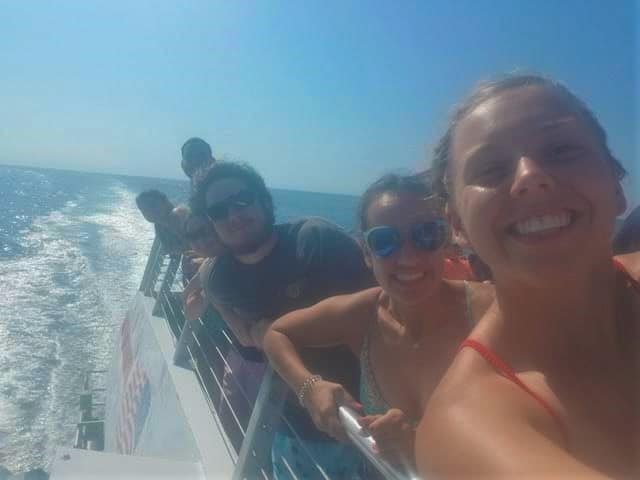 MAY 15
We left the lab and drove up to Everglades National Park, near Florida City. We spent that evening cruising the main road through the park, looking for reptiles in the road. We ultimately found several mud turtles and a glass lizard. We also spent an hour or so at Flamingo (the main visitor area at the south end of the park), where we saw crocodiles and manatees. The night of the 15th we scattered out and stayed in various hotels around Florida City.
MAY 16
We drove back to Warner, and that was it!